About Prospan Air Shoring
With years of experience in education, the fire service, and particularly with the OSHA standard governing excavations, Prospan understands the need for incredibly strong, simple-to-use shoring products. Our PRO-Lite, lightweight aluminum shoring shields and the Prospan pneumatic trench shoring jacks make compliance with the standard as easy as it gets. If your shoring needs extend to structural support or vehicle stabilization applications, Prospan has you covered. With our wide array of extensions, baseplates and end-attachments, Prospan has the solution for all your shoring needs.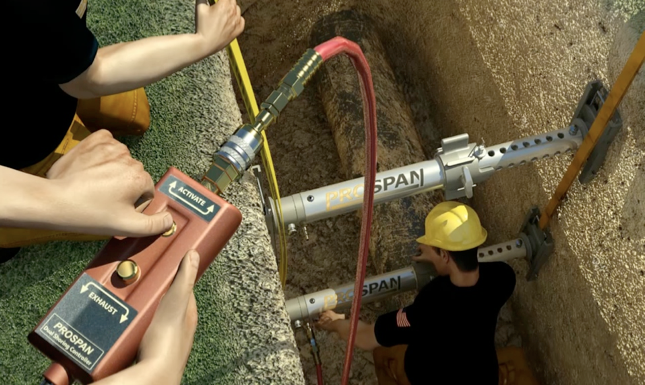 OSHA mandates that any employee entering a trench five feet or deeper must have cave-in protection. Prospan's air shoring jacks have been designed to provide this level of protection. Unlike other shoring products on the market, the Prospan design enables the shoring to bear directly against the trench wall, thus eliminating the need for plywood in most circumstances. Our patented design has some of the most advanced engineering in the world. Engineering designed to keep you and your workers safe.
We'll Show You How it's Done
While we're proud of our shoring products and Prospan's wide selection of extensions and end attachments to get your particular job accomplished, our most beneficial service to you may well be the on-site Competent Person Training in the OSHA excavation standard 29 CFR 1926, sub-part P.
Part of our commitment to ensuring safety is making certain that the jobs are done right. For us, that means that you fully understand what Prospan products can and cannot do. It's for this reason that Prospan strongly recommends repeated, annual training in the products.
Our staff has trained literally hundreds of workers from municipal public works, utility companies and the fire service throughout the country to become competent persons. The last thing we want is someone out in the field who hasn't been shown the proper way to install and use a Prospan product.
Prospan has developed a training program second to none. We've designed an efficient, easy-to-understand course to ensure your employees know the OSHA rules for entry into trenches. We begin with an evaluation of your current compliance effort and we follow this up with an on-site classroom presentation. Finally, weather permitting, we finish up in a live trench at your site in which we apply the classroom principles. Your employees don't have to travel to some distant destination to learn, you avoid having to pay travel expenses and overtime to teach them, and they can leave immediately if the need to do so arises.
In 2011, OSHA estimated that excavation work had a fatality rate 112% higher than the rate for general construction. Let us ensure you have the proper competent person training to take the necessary precautions to protect your workers from potential trenching, excavation, and other shoring hazards.
While dangers associated with trenches are recognizable and preventable, injuries and even fatalities still occur. The numbers are getting better, but the U.S. Bureau of Labor Statistics continue to indicated that hundreds of workers lose their lives in trenching or excavation cave-ins each year. Let us help you minimize your risks with the proper Competent Person training and products.
"Accidents don't just happen. They're caused."
People Who Use our Products
Prospan's patented shoring products are in use globally. Primary users of our products are municipal public works departments, utility companies, and the fire service. Eighteen of Illinois' 34 rescue teams use Prospan products and the United Nations has acquired the Prospan product in the wake of the devastating Haitian Earthquake.